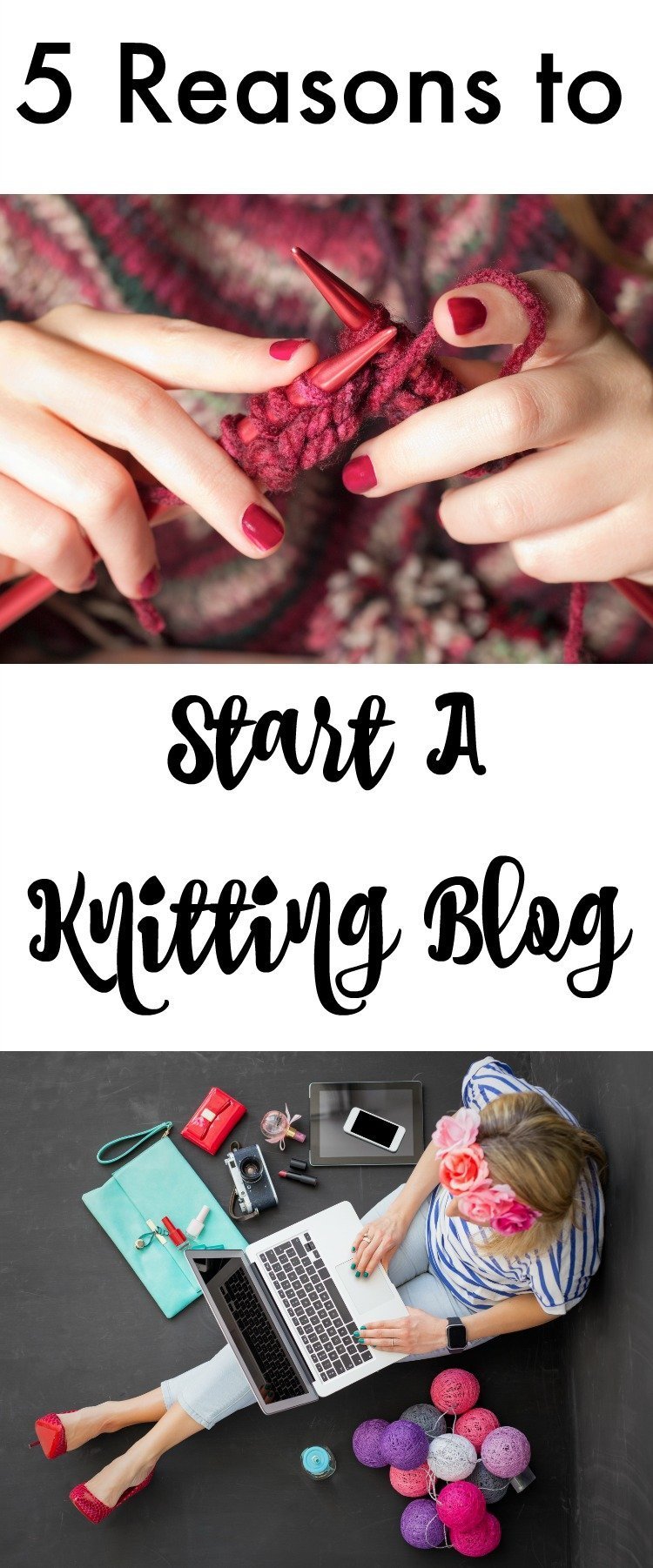 A blog is a great way to immerse yourself in something you love.  I love designing and have always been a very creative person, so working on projects for my blog really interests me.  It's my way of getting away from it all and being in my own little knitting world.
Maybe you have things you want to share.  Projects, knitting tips you've learned over the years, favorite knitting resources – you get what I mean.  Sometimes you can't find what you are looking for online!  I know there is a ton of information out there, but you have a unique take on things due to your experiences.
A blog is a great way for self-expression and also a great way to meet new friends who love the same things you do.  Some people have even been able to quit their full-time jobs and make more money blogging than they did at work!
5 Reasons to Start a Knitting Blog
1. You Can Share Something You Love
When you have something you are passionate about (and I'm assuming you are passionate about knitting, otherwise why would you be reading a post about starting a knitting blog?) you love to talk about it.  You can discuss projects, tips you've learned, tutorials and more.
When you share you also have the option to interact with new people.  I don't have anyone who lives near me that I meet up with to knit.  I would love to, but haven't really met anyone – especially when it comes to designing.  I keep in contact with some other designers I've met at different conferences and am a member of several Ravelry groups.  I've also met a lot of new people on this blog who love knit and crochet.
Who knows, you might end up helping someone out!
2. You Can Learn Something New
A lot of the time when I am creating something for my blog, I choose something that I haven't done before.  Maybe a new stitch pattern I've never tried (like the Slip Stitch Hat) or an item I've never made (like my Puppy Love Puffball).  Whatever it is, I am always on the lookout for new things I haven't tried before.
Sometimes I plan a post about things I have only learned through experience (such as ways to fix mistakes).  If you try something and it works for you, it is great to share it and help someone else out!  If you get yourself on a posting schedule (which you definitely should!) you will constantly be learning new things to come up with new content.  It's a win-win.
3. It Will Keep You on Your Toes
Starting a blog is the easy part.  Keeping up with it will be a challenge.  Let's face it, life gets in the way.  When I started my blog I only posted once or twice every few months.  Then I went to once a month, which still really isn't often enough.  Now I try to post three times a week but sometimes I don't meet that goal.
It will also challenge you to come up with ideas.  I am a really creative person and coming up with the ideas is the easy part for me – it is the implementation of them that is a challenge.  I have a whole binder full of things I am just dying to share!
I'm the type of person who gets bored doing the same things over and over (even making the same project twice is a chore to me but I do it when I need for videos) so this blog keeps me inspired to create new and better things.  It's so exciting to see what everyone is making with my patterns!  That's probably the best part about it. 🙂
4. You Will Write Better
The key to better writing is consistency.  When you post regularly you will find yourself writing a lot.  The more you write, the better you get at it.  Even if you are not the best writer now, with practice you will find your writing improving.
Writing blog posts may be a bit challenging at first, but trust me, the more you do the better you get.  If you are a designer, you will find your pattern writing getting better.  The key to good pattern writing is practice.  You get used to the terminology and develop your own style.  Starting a blog could also help you land design jobs for magazines and books.
Many bloggers have also become published authors thanks to their blogs.  If you have ever wanted to write a book, think about starting a blog and growing an audience.  You can always self-publish, too, and your audience will be first in line to buy your books!
5. You Could Make Money
If you write good content consistently, you can actually make money with your blog.  Some large blogs earn millions a year.  Now, this blog definitely does not have an income like that, but I have been able to make some side income from blogging and still have time for my family.  I still make more from designing patterns for magazines, but it looks like that is going to change soon!
Besides income from the blog itself, you might be asked to teach, speak at a conference, or something similar because of the exposure you get with your blog.  A good friend of mine recently was asked to teach on a crochet cruise to Ireland.  How sweet is that??
Even if you are not an expert knitter (yet!) starting a blog could be right for you.  As you build up your blog with posts, projects and more you will gain greater skills and eventually you might be an expert – or even a published author!  You never know where a blog will take you.
So why not start?
I encourage you to start a knitting blog if you are passionate about it.  Maybe you are very interested in a specific technique (like lace knitting) or making a particular item (like hats for charity).  Whatever you're interested in, you are sure to find others who love the same thing.
Don't feel like you have to be a designer, either.  Lots of blogs make money by sharing others' free patterns (with the link, of course, not hosting the pattern on their site without permission!) or sharing projects they've made.  I've seen neat blogs of new knitters who walk you through their journey.  You can share your favorite yarns, needles, patterns, etc.  Blogging is not only for designers!
What about you?  Have you ever thought about starting a knitting blog?  Want more information?  Check out my post How to Start A Knitting Blog for helpful hints.  Leave a comment below!