It's that time of year again!  Time to get out the hooks and make cold weather warmers, gifts, and snuggly blankets as the weather turns cooler.  You wouldn't know that it's fall around here in Middle TN – we hit 88 degrees on November 1st and it's still supposed to be around 80 today.  I'm ready for fall!  The trees are still turning their beautiful colors and the leaves are falling, but it's hard to get into the fall spirit when people are still wearing shorts and flip flops.  For you guys that are enjoying fall weather, or just in the crocheting mood, here are my top six free scarf patterns for you to peruse.
I have created these scarf patterns and wanted to share them all here in one place so I decided to do my first round-up post of only my own patterns.  I love sharing other crocheters beautiful patterns, too, and regularly do with my other round-ups, but today I'm trying something different.  I hope you enjoy these FREE scarf and cowl patterns!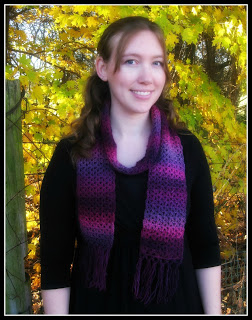 Created from the amazing Red Heart Boutique Unforgettable yarn, this scarf can be made as an infinity scarf or left open as shown with added fringe.  The V-stitch pattern is easy to memorize and the yarn does all the color work for you, making this a very easy pattern that produces stunning results.  There is also a knit version of this scarf here.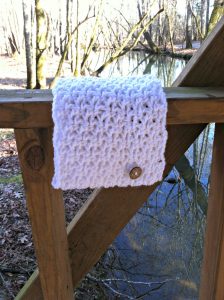 This cowl can be worn in so many different ways, as shown in the post.  It is created in the round and a button is sewn on after it is crocheted that allows it to keep the different shapes and make it a perfect little winter warmer.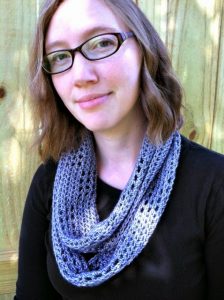 For a long time this was by far the most popular pattern on this website, until my Duchess Baby Blanket pattern was released.  It is worked in the round using double crochets and chains in a windowpane pattern.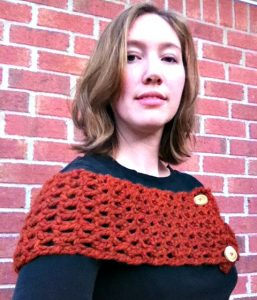 4. One-Skein Thick and Quick Scarf
This is a super easy, versatile scarf/cowl that can be created in a couple of hours (or less!) using only one skein of Lion Brand Wool-Ease Thick & Quick.  I left it open and put buttons on the end so it could be worn in a variety of ways.
This cowl was created as a gift for one of my son's teachers.  Using one strand of Red Heart Soft and one strand of Red Heart Swanky yarns held together gives this cowl a unique look and feel.  The Swanky yarn includes sequins for extra holiday bling. 😉
This cowl is worked flat and seamed and uses the Primrose stitch, from where it gets its name.  It takes two skeins of Deborah Norville Everyday Worsted and is an easy stitch repeat that works up quickly.
Thanks for checking out this round up of free scarf patterns designed by me here at Designing Crochet!  Check out my other free patterns if you like what you see.