Wow, there are SO many crochet tools out there!  How do you decide which ones are the best or worth the money?  To figure this out I went to my blogger friends who have been doing this a while and they were kind enough to share the products and tools they actually use and love.
So today we are going to check out some of the amazing tools of the trade and give you some tips and tricks to use some of them.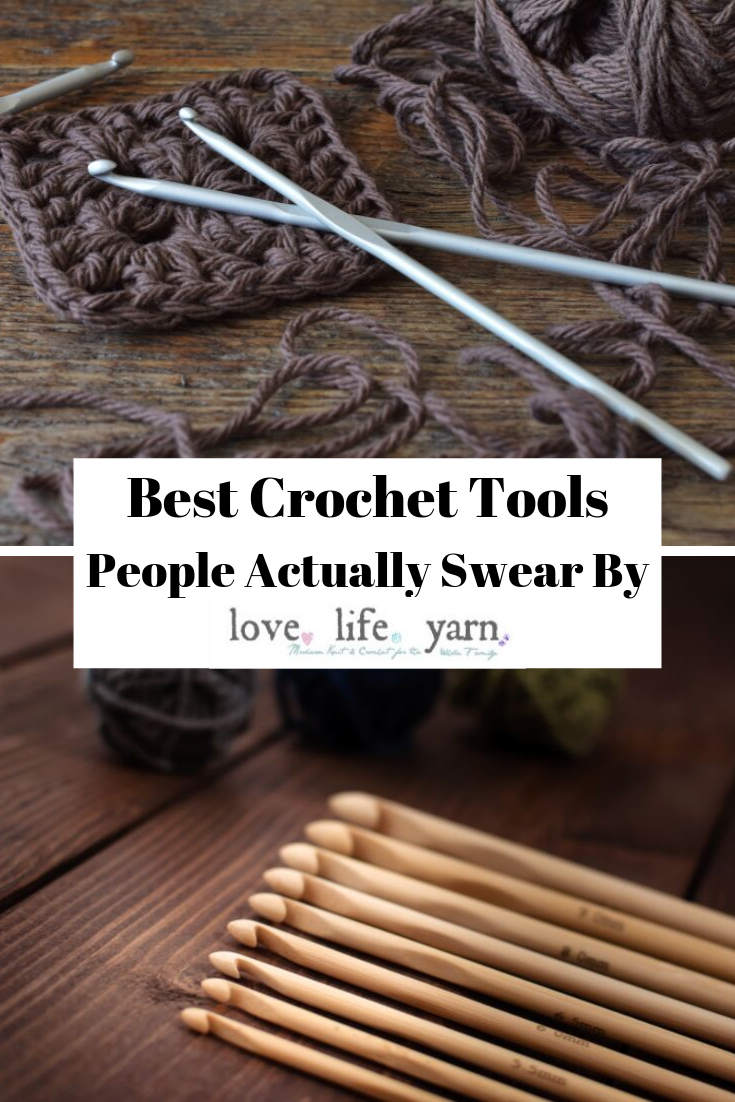 Crochet Tools: Hooks

These are great, affordable hooks.  I love the different colored handles that make it easy to grab the right size without having to search for the tiny writing, they are lightweight and ergonomic and they don't cost a fortune!  I really love all things Clover, too!  Read what Moogly thinks about the Clover hooks here.  And, if that's not enough – Stitching Together has an another great review here
If you've been in the crochet world for long, I'm sure you've heard of Furls amazing crochet hooks.  These are awesome and they have so many different ones in price ranges to suit everyone's budget.  You can check out what the Hook Nook Life has to say about Furls here.
Clover Tunisian Interchangeable Hooks
If you haven't tried Tunisian crochet  yet, what are you waiting for?  It looks so much like knitting but you use a hook – it's really the perfect combination of the two.  These interchangeable Tunisian crochet hooks are perfect for every project.  Check out this review from Nicki's Homemade Crafts to see why they are so amazing.
Crochet Tools: Storage
This is amazing for holding all of your tools and supplies!  I love having all of my things in one place… when I can keep them there.  This case is perfect!  See what my friend Megan from Left in Knots has to say about this case.
Wow, this bag is amazing for storage!  It can carry all of your supplies and keep them organized in one place.  You can check out a video review from BobWilson123.
Miscellaneous Tools
Wow, have we had fun with these at my house!!  Not only do they create perfect poms for beanies and other projects, but they are so easy to use that even kids can use them!
Check out my son's video tutorial:
But plain poms aren't all they are good for:
Check out this unicorn pom pom from Nicki's Homemade Crafts!

Beyond Fibre Wash – detergent for hand washables Think a special fiber wash isn't as good as regular detergent? Read the review about how this converted Stitches N Scraps here

This is seriously amazing!!  I really want to try this one now.
Check out why Crystalized Designs loves this tool so much.
Some Other Crochet Tools I Recommend
This comes in super handy when measuring my projects!  I like to use a measuring tape because they usually go to 60″ – much larger than a ruler.  I use this for measuring the size of my blankets, sweater pieces, etc but I do NOT use it to measure gauge.  It is possible they can get a little stretched out, so make sure you also have a ruler handy, too.  You can get some super cute ones, but I like these inexpensive ones.  I keep a few on hand to make sure I always know where one is (the kids often take them!)
You can get so many cute stitch markers but I tend to lose mine.  (Is anyone sensing a theme here??)  So I go for these inexpensive Clover stitch markers.  They come in many different sizes and I love that I can lock them into the first stitch of a round or row.

Scissors or Yarn Cutter Pendant
This is a no-brainer!  Using your teeth to cut yarn is no fun (just ask my hubs –  he gets to bite the yarn if I forget my scissors in the car! Lol).  A small but pretty pair of scissors is a must or you can use a yarn cutter pendant like the one above.  Either way it will save you from having to bite off your ends.

Yarn Needles
These are much larger than your traditional sewing needles and they are blunt, making them perfect for sewing with yarn.  A sharper needle would easily split the yarn, but these needles are better for going behind a strand.  Perfect for weaving in ends, seaming pieces together and more.  The set shown above even includes stitch markers for a very low price!
Whew!  Well, that's all the tools you should need in your arsenal!  Be sure to read up on why these experts love these tools so much!