Why are there so many different kinds of crochet hooks? Find out which of these tools are the best crochet hooks for for beginners in this handy guide.
Before we begin… let's get Social!
I would love for you to come follow me on
Instagram (get sneak peeks of what's coming up!)
My Facebook Page (come join the fun!)
Follow me on Pinterest (I pin tons of free patterns to my boards!)
Join my Facebook group (lots of awesome crochet talk there)
Also, you can find me on Ravelry or join more than 22K subscribers on YouTube.
All About Crochet Hooks (Ultimate Guide)
When starting to crochet you really don't need many things to get going. I started with a loaned hook and one skein of yarn. It took me quite a few tries to get the hang of crochet, so don't get discouraged, especially if you are a knitter first.
For whatever reason I could not see the stitches when I started. I remember thinking "what stitches? I don't see anything that looks like V's!" I had knitted for about four years before it finally clicked for me. I think I had someone show me at least two times before that, but since I couldn't see the stitches my projects turned into triangles or were uneven and I gave up.
In knitting it is easy to see how many stitches you are working with just by counting the stitches on your needles. When crocheting you have to know what you are looking at, especially on the ends. In the weeks to come I hope to publish more information for beginners as more seasoned crocheters.
To start you really need two things: a hook and some yarn. Sometimes people will call a hook a crochet needle. I would recommend starting off with worsted weight or bulky yarn until you get the hang of it, then you can move on to whatever weight yarn your project requires.
Anatomy of a Crochet Hook
No matter what type of hook you are using, whether an ergonomic crochet hook, a Tunisian hook, or simply a plain aluminum crochet hook, they all have the same parts. Let's take a look at each of these parts in turn.
Here are the five parts of a crochet hook:
1. The Handle
There are many types of crochet hook handles and there isn't really one better than the other – it's all personal preference. I have hooks that I prefer, such as a hook with an ergonomic handle, but I am not that picky when it comes to my handles. I have a ton of different hooks I've picked up over the years, and I tend to reach for whatever is closest.
Chose a handle that is comfortable to you, that feels good in your hand and is easy to work with. Everyone holds their hook just a bit differently, so what works for one person might not feel good to you. Some people use the knife grip and some use the pencil grip, and the way you hold your hook can make a big difference in determining the style you prefer. Try out as many as you can.
2. Thumb Rest
Most crochet hooks will have a thumb rest, where you place your thumb on the hook. A lot of times you will find the hook size on the thumb rest, but some hooks, such as an ergonomic hook, won't have a traditional thumb rest.
You typically find a thumb rest on a plastic hook and oftentimes an aluminum hook. They are more common on the straighter hooks without a large handle.
3. Shaft
This is what determines the size of your crochet stitch, and it is the part that the measurement for the hook size is taken from. The shaft is the part you wrap your yarn around, so it is very important.
You need a smooth shaft for your yarn to glide easily on, and the material can play an important part here. I've found that metal and polished wood hooks glide nicely, but I've had some plastic hooks that wanted to grip the yarn and even made a squeaky sound, letting me know that hook with the particular yarn I was using wasn't a good fit.
4. Throat
There are two types of throats on crochet hooks – inline or tapered. Personally, I don't have a preference, but I know lots of people who prefer one over the other, so let's take a closer look at each.
Inline Hook: The inline hooks have a deeper throat, so some feel that it's easier to control the yarn with this type of crochet hook throat.
Tapered hook: This type of hook has a more shallow throat, which can help you to crochet faster because the stitches glide off smoothly, but sometimes they can come out of the stitch, so they are not always the best choice for a beginner.
5. Hook Head
The head of a crochet hook is the very top of the hook, and this is what you insert into your stitch. You want a nice rounded head on a hook, not too pointy and not flat. This will help the hook go into the yarn without splitting.
Types of Crochet Hooks
Standard Crochet Hook
This type of hook is what you would consider a regular crochet hook, and is what you think of when you hear the words "crochet hook". They can be made from many different materials, which we will discuss in a minute, and they range from US sizes B (2.00mm) to P (10.00mm).
For beginners, it's great to get a crochet hook set that has several sizes.
---
Ergonomic Crochet Hook
This type of hook is perfect for those who need a larger handle. It works best for those whose hands tire easily, get hand fatigue or have hand pain or those with arthritis, but it has become a favorite among all crocheters. I personally love several brands of these and use them regularly, even though my hands don't tire easily.
---
Tunisian Crochet Hook
A Tunisian hook is used for what it sounds like – Tunisian crochet. This is a special type of crochet that requires a much longer hook to hold all the stitches at once – sometimes even with cords attached at the ends to hold more stitches. They can be single ended or double ended, and come in the same sizes as the standard hooks.
You can also find these sold as interchangeable hooks where you can work them with a different hook on each end of the cord, or can pick the desired cord size.
---
Steel Crochet Hooks
Steel hooks are metal hooks made for working with very fine thread, and they come in very small sizes such as 14 (0.60mm) to 4 (1.75mm). In my opinion it takes a very special person to have enough patience for crochet thread, but I have created a couple of patterns with crochet thread, one of which was for Red Heart yarn and it turned out reall well.
I wouldn't recommend these for beginners, however, as the nature of the tiny hook is hard for beginners to see. If you are new to crochet, I recommend getting started with a much larger hook and yarn, and then work your way down.
What Size Crochet Hook is Best?
This really depends upon the yarn you are using. Let's take a look at the most common types of yarns and the hook sizes recommended for those. Of course, these are just guides, and you may want to practice the chosen yarn with different size hooks to see how the hook size affects the drape.
Sometimes the hook size is dictated by the crochet pattern, and you will use whatever size hook you need to get the gauge called for in the pattern.
If you are unsure, check the yarn label for a recommended hook size.
This type of yarn requires the small and delicate steel hook. You could even go as large as a B hook, but usually the steel crochet hooks are used. The typical sizes in mm are 0.60mm-2.25mm.
I have used two strands of size 3 crochet thread held together with a larger hook before, and it worked out well.
Fingering (Super Fine, Sock, Weight #1)
This weight of yarn uses the smaller of the standard hook sizes, ranging from a B (2.25mm) to an E (3.5mm). This is still small gauge yarn, so expect to get a lot of stitches per inch with these hook sizes and weight of yarn.
Sport (Fine, Baby, Weight #2)
These are still the lighter weight yarns that require a smaller hook, although we start to get into the middle of the standard crochet hook size with this weight of yarn.
You will typically use sizes E-G with sport weight yarn, which range from 3.5mm-4.5mm. A 4.5mm hook is also known as a 7, as it's larger than the G hook but smaller than the H.
DK (Light, Weight #3)
This is a very popular yarn weight amongst crocheters, and for good reason. It works up decently quickly, is not too bulky and is very common in yarn shops.
For this weight yarn, choose a hook in sizes from the 7 (4.50mm) mentioned before, up to an I (5.5mm).
Worsted (Medium, Aran, Weight #4)
Worsted weight yarn is probably the most common, and it is used in a wide variety of projects. For this size yarn, the recommendations are to use sizes I-K (5.5mm – 6.5mm).
Bulky (Chunky, Weight #5)
I love larger yarns because of how quickly they work up, so this is a wonderful weight for things like hats and scarves. To work with this weight you typically use sizes K-N (6.5mm-9mm).
This yarn used to be the largest on the Craft Yarn Council size chart, and it's big. For this size yarn, you want to use hooks in size M-Q (9mm-15mm).
Jumbo (Weight #7)
With the popularity of huge yarns coming on the market, a size 7 weight was introduced. This size yarn needs very large hooks, so you will need 15mm or larger for this type of yarn, and many are even worked with just the hands and arms, no hook required.
Materials
Crochet hooks are made from plastic, metal (aluminum or steel), bamboo, wood, and sometimes glass, although you don't find glass ones very often. In the stores you mostly will see plastic, metal, and bamboo.
A lot of these sets are $10 or less! Click the link to Amazon to see current pricing. (Note: these are affiliate links, so at no extra cost to you, if you make a purchase I get a little to help support more free patterns!)
Bamboo
I love bamboo knitting needles and sometimes will use a bamboo hook but it really depends on the yarn. A yarn should slide easily off the hook but not so easily it falls off when you aren't expecting it.
Bamboo is a great material for working with yarn. If you have a more slippery yarnthat tends to slide off of plastic or aluminum, try a bamboo hook. They tend to have more "grip" and keep the yarns from sliding. Sometimes, though, that can work against you if your yarn holds onto the bamboo and won't slide off easily enough. Overall, though, I do love bamboo as the material tends to warm in your hand and is comfortable. I only have a few bamboo hooks but I really like them.
Bamboo hooks are lightweight and come in a variety of styles, from a simple stick style such as these (VERY affordable set):
Click here to see these hooks on Amazon
To a metal shaft and head with a bamboo handle. How fun are these??
Click here to see these hooks on Amazon
---
Steel
Steel crochet hooks are made for very fine crochet thread and are often used to make lace items like doilies. If you are truly a beginner, I would wait to use crochet thread until you have a few simple projects under your belt as it is harder to see the stitches on such a small scale.
Click here to see these on Amazon
---
Plastic
Plastic crochet hooks are inexpensive and come in all the common sizes. They are lightweight and comfortable, plus they tend to work well with almost any yarn. Yarns don't tend to slide off too easily but glide nicely off with each stitch. Plastic is my choice for larger yarns and I reach for them whenever I need to use anything larger than a J hook. I have this set:
It has sizes L-P and is great for larger yarns. I love how well they work with most bulky and super bulky yarns. For some reason I misplace my larger hooks more often, so I like to keep extras around. For quite a bit less than $10 they are a good deal, too.I also like these:These are sizes F-K and will cover you for DK and worsted weight yarns. These are some of the extra hooks I have for when I misplace my favorites, which happens sometimes when I have several projects going on. Very easy on the wallet, too!
Click here to see this set on Amazon
---
Aluminum
Aluminum hooks are also a great choice for beginners and you can usually pick up a single hook at Wal Mart for around $2. These were the hooks I used when I first began just because they were so abundant and cheap and I still have quite a few in my collection and use them sometimes. The yarn glides nicely and they work well for most fibers.
Click here to see these hooks on Amazon
---
Wood
Most of the hooks you will find when you search for "wooden crochet hooks" turn up results for bamboo hooks. There are a few nice wooden hooks made out of materials such as rosewood, and as much as I love them for my Instagram photos, they are not my favorites for actually crocheting with. (Sorry, fancy hooks!)
Click here to see this hook on Amazon
So what kind of crochet hooks are best for beginners?
You want something budget-friendly, so I would go for the aluminum, plastic or bamboo in a size from G to L, depending upon the yarn you are using. Yarns will have the recommended hook size on the label, so check out the recommendation.
What are the sizes of crochet hooks?
Here is a quick crochet hook size chart:
| | |
| --- | --- |
| US Size | Metric |
| B/1 | 2.25mm |
| C/2 | 2.75mm |
| D/3 | 3.25mm |
| E/4 | 3.5mm |
| F/5 | 3.75mm |
| G/6 | 4mm |
| 7 | 4.5mm |
| H/8 | 5mm |
| I/9 | 5.5mm |
| J/10 | 6mm |
| K/10.5 | 6.5mm |
| L/11 | 8mm |
| M/13 | 9mm |
| N/15 | 10mm |
| P/Q | 15mm |
| Q | 16mm |
Where can I buy crochet hooks?
There are several places I go to get my crochet hooks. Specialty hooks I often order online, through places like furlscrochet.com or Etsy. You can also get them on Amazon, Lion Brand, Yarnspirations, and check out the amazing prices at We Crochet!
If I need a hook now, I will run to JoAnn, Hobby Lobby or Michael's – and sometimes even Wal Mart for an inexpensive aluminum hook.
What crochet hooks are best? Recommended Hooks and Hook Sets
I keep a lot of different hooks on hand because sometimes I misplace a certain size (or leave it in a bag with a project I abandon – anyone else do that?) or sometimes I find that a certain material works best with different fiber contents of yarn. I am horrible about misplacing my hooks!
Over the years I have gotten better about finishing projects so I don't lose hooks when I put projects away much anymore. I used to start a project, get bored, find something that looked more interesting, then put the project (with its hook!) in a bag and not look at it for a very long time.
Then I would completely forget that I put the hook in the bag and wonder "where in the world did my size H go??" So I would buy another inexpensive one and I have ended up with quite an impressive collection. On the plus side, I always have the size hook I'm looking for! Well, except for sizes L and M… I still seem to misplace those…
You will notice that these are ergonomic crochet hooks. These are what I recommend for all crochet projects because ergonomic hooks are more comfortable, come in all the different sizes and work well even for a beginner crocheter. They are all metal hooks with a comfortable handle.
---
1. Clover Amour Hooks
These have a wonderful ergonomic handle and come in singles or you can get a hook set. I love how they color coordinated the sizes! Besides this set you can also get larger hooks, which are the ones I find myself using a lot. An excellent choice for new crocheters as well as experienced crafters.
---
2. Clover Soft Touch
These were my absolute favorites until the Amour hooks came out, and now I switch back and forth between the two. I love the ergonomic handles on these as well. You can also get these single or as a crochet hook set.
Click here to see the Soft Touch
---
3. Furls Crochet Hooks
Furls has some amazing hooks, and I honestly can't choose a favorite. They have amazing wooden, resin and even one of a kind hooks!! I recently ordered some of these hooks and I wasn't disappointed.
---
4. Susan Bates Soft Handle
I received one of these when I went to the CGOA conference in 2019 and I didn't think much about it because the top looks like a typical aluminum hook.
However, when I used it I noticed the big difference in the handle. These are very affordable (especially if you use a coupon at JoAnn!!) and they really do work well.
Click here to see the Soft Handle hook
---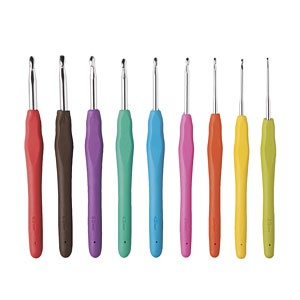 5. We Crochet Ergonomic Set
I received a set of these hooks when I got yarn support from We Crochet, and wow!! I really enjoy them a lot – and for less than $10 you can get a whole hook set!!
Click here to check out the We Crochet set
---
Final Thoughts on the Best Crochet Hooks for Beginners
Whew! Well, we've covered a LOT today! I hope you've learned a lot about the different types of crochet hooks and maybe even have some favorites you're eyeing. Try out lots of different hooks to find the best hooks for you. The right hook for a friend might not be your perfect hook. So, keep experimenting. After all, you can never have too many!
Happy Crocheting!
Amanda