I created this scarf as a quick project to wear with my black dress and new tall boots.  I wanted something I could crochet super fast and that was very easy.
The Red Heart Boutique Unforgettable yarn is absolutely beautiful and turned this simple scarf into something special.  Perfect for the fall weather we are having here – as evidenced by the beautiful trees in our backyard.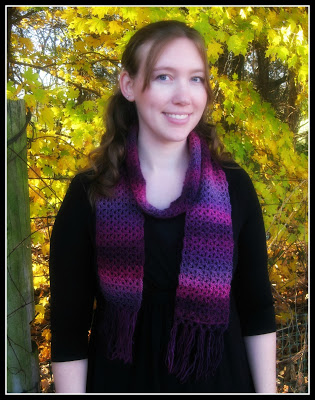 This project is made entirely of a V-stitch repeat that consists of a double crochet, chain 1, double crochet in the same space.  It's so easy to remember and really gives a nice look and texture to the project.
This is by far my most popular pattern on Ravelry and I am simply amazed by how many of you have made Unforgettable One-Skein Scarves of your own.
Thank you!  Be sure to check out all of my free crochet patterns here!
 To buy a large print, ad-free pdf of this pattern for $1.99 click
HERE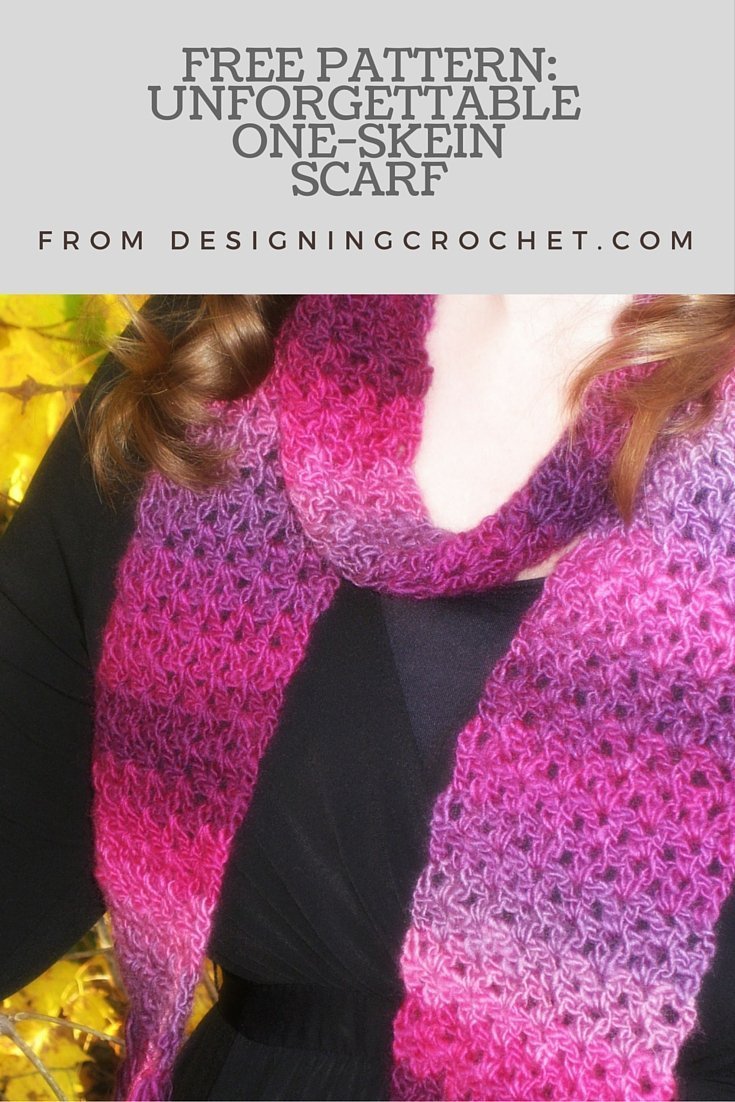 Unforgettable One-Skein Scarf
What You'll Need
Red Heart Boutique Unforgettable, 3.5 oz/100g, each approx 280 yards/256 meters (acrylic): 
1 ball #3950 Petunia
·
Size I (5.5mm) crochet hook or any size to obtain correct gauge
·
Yarn Needle
Length: 65" not including fringe
Width: 4"
20 sts and 8 rows = 4″/10cm in V stitch pattern
Ch 22.  Dc in 5th ch from hook, [ch 1, dc] in same ch, *sk 2 ch, [1 dc, ch 1, 1 dc] in next
ch.  Repeat from * to last 2 ch, sk 1 ch, dc in last ch; turn.
Row 1: Ch 3, sk first dc, *[1 dc, ch 1, 1 dc] in next ch-1 sp.  Repeat from * to last dc, dc in top
of turning ch; turn.
Repeat row 1 until piece measures 64 inches from beginning.
Ch 5, *sk (dc, ch-1, dc), sc in space between dc's, ch 5.  Repeat from * four times, ch 5, sc in
top of turning ch.  Fasten off.
Join yarn at edge of beginning edge and repeat edging.
Add three strands of fringe to each ch-5 sp at each end. 
**UPDATE: April 2019 – over 140 projects have been made and posted to Ravelry.  Check them out!  I love seeing everyone's finished objects. 🙂
**UPDATE November 2016 – I have finished the hat pattern!  You can check out the matching hat by
clicking here