Last month I crocheted my first ever washcloth and, I have to admit, I really liked it.  Enough to make a few more.  I wanted to experiment with some different stitch patterns that I like and I'm working them up for a larger project I have in mind that I will be sharing soon.
This washcloth is made from another of my favorite stitch patterns which uses a smaller version of the Bean Stitch.  Some people call it the Mini Bean St but I've always called it the Modified Bean Stitch and I've used it in the Simple Textured Cuff and the Simple Textured Messy Bun Hat… hence the name of this pattern, too – the Simple Textured Washcloth.
I have a tendency to stick with a similar name if I'm using the same stitch pattern – and sometimes I get hooked on one and make a bunch of things out of the same stitch before moving on to another.
I also tend to find that I go in spurts where I will make a lot of the same type of item before moving on to something else that catches my eye.  Anyone else do that?
I've made scarves, then baby booties, now I'm liking washcloths, etc.  I am still working on other projects, though, and I have a baby blanket almost finished that I can't wait to share!
My first designs were almost all sweaters, and I still do design those but mainly for publication.  A full adult-sized sweater is a LOT of work!!  (I'm sure anyone out there who has even attempted one can tell you that!)
So I'm sticking to a little smaller and less complicated projects when I can… especially for these warm summer months.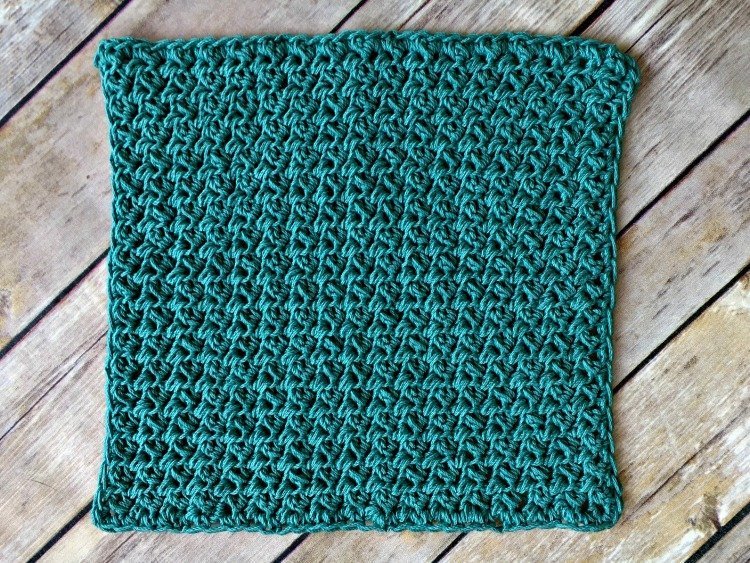 Simple Textured Washcloth
What You'll Need
Yarn: Lion Brand 24/7 Cotton in Jade (1 Skein)
Hook: H/8 (5.0mm)
Notions: Yarn needle
Skill Level: Easy
Size: Approximately 9″ square after blocking
Gauge: 19 sts and 12 rows – 4″ in pattern st
Special Stitches:
Modified Bean Stitch (mbs): insert hook into st and pull up a loop, yo, insert hook into same st and pull up a loop (4 loops on hook), yo, pull through all loops on hook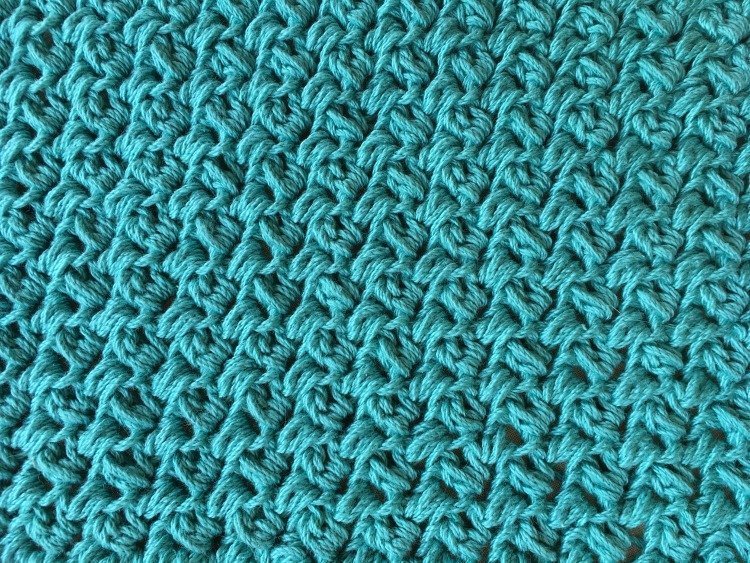 Pattern
Ch 37.
Row 1: Mbs in 3rd ch from hook, *ch 1, sk 1 ch, mbs in next ch; rep from * to end – 35 sts.
Row 2: Ch 2, mbs in first st, *ch 1, mbs in next mbs; rep from * to end.
Repeat row 2 until piece measures 8 1/2″ from beginning.
Border: Ch 1, work one round of sc around edge of washcloth, working 3 sc in each corner.  Fasten off.
Weave in ends.
Block to measurements.
That's it!  Super simple and I love the texture it gives, especially with this Lion Brand cotton yarn.  I hope you enjoy!
Happy Crocheting!
Amanda